Till today in 2023, there are over 51 million YouTube channels with people all around the world creating videos and uploading them. In such a situation, starting a YouTube channel and just waiting for a million viewers to pour in will be a foolish approach to marketing your video. Instead, organic YouTube video promotion methods help in popularizing your video naturally through free or cheap services.
In most cases, organic promotion yields a 100% return on investment as you spend a minimum amount of money on advertising campaigns.
The only thing you need is perfect timing and excellent marketing skills. So, this blog gives you some tips to master both and improve your organic reach.
Thorough Keyword Research
Ranking well in search results is one of the most efficient methods of gathering traffic. Use keyword research tools to determine search volume and competition for your key phrase.
You can also research for keywords that receive organic searches on Google. Make videos on such topics and rank higher on google searches. This will improve your SEO ranking and direct many viewers to your channel.
Social Media and Blogs
Many YouTubers rely highly on free social media platforms to reach a wide variety of audiences. As per many statistics, a lot of YouTube videos are watched on Facebook and Twitter.
Unique content and proper optimization of your video can help you harness the power of social media to promote your video. 
Similarly, you can also reach out to blog authors who have similar content to your video. And also you can request them to embed your video in their posts. Or if you have a blog with a large audience, share it with them too.
The "Key Moment" Tool of Google
Sometimes google shows key moments of a video that helps you to skip to the marked points of interest in your video. To mark a key moment, you have to add timestamps and labels in your description. 
The timestamp will be in the hour:minute:second format and the label will tell you the contents of the video at that particular time.
A keyword-rich label description will be more helpful in improving your rank in search results. But also remember to keep it short and crisp.
Perfect Timing
If you are an existing YouTuber, you can access YouTube's new report – "When your viewers are on YouTube". This gives you an idea of when most of your audience is watching videos.
Post your video one hour prior to peak time so that they have ample time to discover and watch your videos. 
Also, the timeliness of your content also plays a major role. For example, you cannot post a video on how to make ice-creams in winter. This will decrease the efficiency of your video.
Such a video in summer would have gathered much better views. Perfect timing to publish relevant videos can help you to promote your YouTube channel.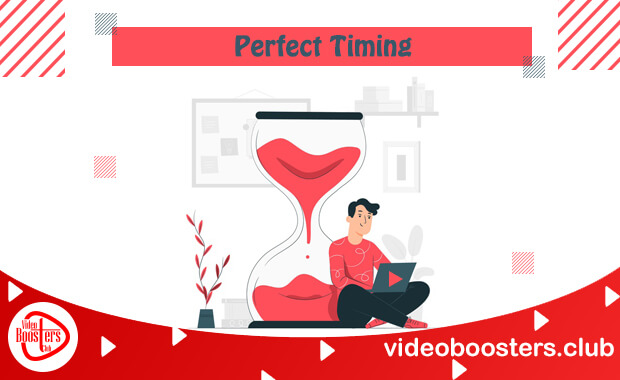 Engagement is the Key
If you have set things right in place and published your video on YouTube, you should try to engage your target audience. You may welcome your viewers to comment on your videos. And also try to encourage a positive criticism that allows you to reduce errors in your video.
This will create a positive impression in your viewers' mind and make them stick to your channel.
Conclusion
With the above methods, you can form a completely organic YouTube video promotion plan that will spike up your viewers and subscribers in no time.