Nowadays whether you are owning a small business or want to earn some side cash, YouTube is the best source. But more than that YouTube is a brand on its own. In this blog, you will know how to get 1000 subscribers on YouTube conveniently.
People nowadays are becoming more selective about what they want to watch or what they can watch. And therefore, growing subscribers which can help you to grow your views is becoming harder but it's not impossible.
Having a career in YouTube, you can't go slow but cracking that and being part of the community is hard. Today in this blog, we will be bringing you some tested tips to achieve the milestone of 1000 subscribers on YouTube.
YouTube is becoming a very important part of our daily life, from finding recipes to creating an image of your brand to earning side cash or just enhancing your career all  can  be done if we have YouTube. Your YouTube channel is nothing without subscribers.
Whether you want to earn money or you want to build your brand, subscribers are the one most important factor for your YouTube channel.  Remember the more subscribers the greater the percent of views.
To be brutally honest it's hard to get 1000 subscribers rather than getting 4000 watch hours on YouTube. You have to work day and night for that but with the right strategy you can.
By following these few steps you can easily get 1000 subscribers on YouTube.
 Let's start with the simple ones.
1. Make 1000 Subscribers Your Goal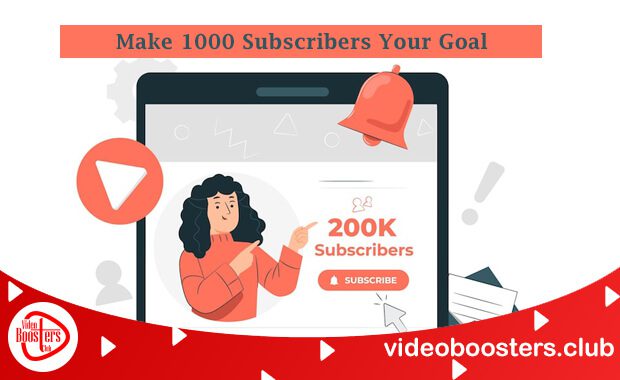 By doing so you will be able to focus and work according to your goal.
2. Chop Your Goal Into Bits And Pieces
What this actually means is that after you set getting 1000 subscribers as your goal you have to find a way to reach it.
It won't be an easy and straight way, therefore make plans into bits and pieces.
Make a plan layout of achieving one goal at a time.
By achieving the small goals which you have made yourself to reach your aim goal will boost your confidence and will to work harder.
3. Remind Them To Subscribe Your Channel
You can do it through two ways: 
a) By reminding them verbally at the beginning or at the end of the video or, 

b) By adding a subscribe watermark to the video.
Well reminding your viewers is the most effective and the easiest way to get more YouTube subscribers. Reminding them won't hurt or damage anything instead it would have the potential of turning your viewers into subscribers.
It won't get you 1000 subscribers on YouTube at once, but can be helpful.
Sometimes viewers need to be reminded that if they want to enjoy such great content they need to subscribe to the channel.
And also keeping in mind those audiences who have just started using smartphones or watching YouTube, might not know how to subscribe and what it is. So asking for it will definitely help these kinds of audiences as well to get more subscribers.
4.  Just Not Any Content, But Which Attracts Viewers
Your content plays a very important role in getting your viewers and in turning them into your subscribers.
But to get 1000 subscribers on YouTube you have to work strategically in producing content which your audience is expecting.
To get more YouTube subscribers you must first select your target audiences. It helps you to narrow down and make a detailed layout of your videos, type of videos and the way people would approach them.
Content just doesn't  mean randomly picking up anything and making a video in it, but a detailed plan of what you want to exhibit and show to your viewers.
You have to create content which will be engaging and interesting to increase your subscribers on YouTube.
By maintaining a proper flow of content which helps to engage and interest your audience can get you your 1000 subscribers and even more.
5. Use The Description Box
Use the description box just not to describe a video but also for links.
You can also add the subscribe link there.
6. Give A Little Sneak Peak Of What Your Upcoming Projects Are
Ok what if they don't like your first video, but the next can work magic for surely.
Therefore, you can give a sneak peek of your upcoming projects which can help you gain 1000 subscribers one at a time.
7. Interact Or Engage With Your Audience
Replying in their comments or by just simply liking their comments can help you to form a relationship or bond with your viewers and thus can turn them into your subscribers.
8. Be Consistent Or Be Regular
It has a simple logic behind it. The more you are active, the more it shows your presence to the ones actively watching or looking for the content of your niche. It will also help you to gain real YouTube views for your videos.
Make a routine and follow it, it will surely help you to reach 1000 subscribers on YouTube.
9. Aesthetics Of Your Channel
In simple words it can be defined as presentation.
Yes you read it correctly. Aesthetics counts a lot for a channel and for attracting more viewers and to get more YouTube subscribers. A good aesthetics can help you to promote your videos organically.
These aesthetics includes:
Banner Art
It's an art or a banner that shows what channel is about. Make sure that the banner should be pleasing and be informing your viewers what they will get in the channel.
Channel Icon
It's your logo for your channel. Make sure it represents exactly what your brand stands for or what you and your channel stands for.
Channel description
Describe your channel in 1000 words of your aim and what you are creating for.
Your video Thumbnail
It's a still image of size 1280* 720px of your video. You can say it's just like a cover for your video. Having a good thumbnail that attracts the viewers at first glance gives you a right thumb to get more YouTube subscribers.
These are small things but if done carefully it would make the perfect aesthetic and can help you to get valuable 1000 subscribers on YouTube.
10. Create Videos Of This Category Which People Love
Create videos from the following types to optimize your reach.
– Reaction videos
– How to videos
– Versus videos
– Listicle videos
11. Create A Channel Trailer
This works the same as a movie trailer.
YouTube customization settings allow you to choose to show one video to your subscribers and other video to non subscribers.
Use this feature to show trailers to your non subscribers to give them an idea about your channel. This will attract them to stick to your channel which in turn will increase your subscribers.
12. Promote Your Youtube Channel In Other Social Media Accounts
Promotion can be the best thing. As you already have a base of people following you, use them to get more subscribers.
Asking your friends and family to promote your channel might also help in achieving more subscribers.
Take hashtags, keywords very seriously. They can be the best tool for you to get your first 1000 subscribers.
Do your homework and research your keywords to your subjects. Hashtags might help you to communicate with the right group of people and get more YouTube subscribers.
Conducting contests can draw attention to more people about your channel.
Conducting regular contests can also help to turn those viewers into your subscribers.
One of the best ways to increase your subscribers count is to have Collab or invite influential people having a large amount of subscribers in their channel.
This can result in attracting more viewers for your channel.
It would be like sharing the subscribers.
16. Show Your Content Strategically On Your Channel Page
You can add up to 12 sections to your channel page.
You can use it to show the playlist that you think would attract the viewers the most.
Use it strategically. Do your research and make a list which would help you to quickly achieve 1000 subscribers on YouTube.
17. Use Clickable Subscription Tools In Your Videos
Do provide or give references of your other videos in the present video, this might catch the attention of the viewers.
Also provide the link of other videos in the description box.
Use the end screen where you can remind your viewers to subscribe.
Following these steps you can easily get your 1000 subscribers on YouTube but you have to surely give your time and dedication. It's fine working on all these but remember the most important thing.
'To be yourself '
Don't be fake or don't be something else for others, because that will earn you only fake followers and you don't want that. To get genuine followers you have to be genuine as well. That's how people will be able to connect with you and your contents.
Stay authentic and see the magic.